Two Free eBooklets on Empathy
Every person on the face of the earth has a God-given capacity for empathy and compassion.
Like every other ability, however, empathy does not improve on its own. But with deliberate practice, each of us can see steady and lasting improvement in this vital relational skill, which powerfully reflects the image of Christ in us.
To encourage you to develop greater empathy in your life, we have just released two downloadable ebooklets called Seven Steps to Empathy and Raising Empathetic Children. This release is part of the celebration of our new website, which has just gone online this week.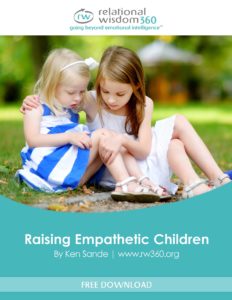 To download your free copy of these booklets, go to our new home page and scroll toward the bottom, checking out the new content.The first time you see the cover of the Seven Steps to Empathy  booklet, keep going. When you see it for the second time near the bottom of the page, just click on the image and you will be whisked to the instant download.
Please feel free to copy and share these booklets with others. You can use them as discussion pieces with your family, a Sunday school class, small group study or staff devotional, or with a friend who may be struggling in a relationship.
We pray that these two new resources will be inspire you to live out the life-changing command of Colossians 3:12:
"Put on then, as God's chosen ones, holy and beloved, compassionate hearts, kindness, humility, meekness, and patience."
~ Ken Sande
Reflection Questions
Each of the ebooklets contains reflection questions that you can use to stimulate meaning conversation on the blessings of empathy.
Permission to distribute:Â Please feel free to download, print, or electronically share this message in its entirety for non-commercial purposes with as many people as you like.
Copyright © 2018 Ken Sande
Would you like to receive future posts like this? Subscribe now!